Interested in dollar store hacks and organization ideas for your home? Let's chat!
I don't know about you guys, but whenever I can find organization ideas that are not only easy to implement, but also budget friendly, I'm sold.
Having said that, if you read my recent article on simple DIY projects, then you probably know that I'm not the most crafty person in the world, which often means if I am going to test out a DIY idea, I don't want to spend a lot of money on it.
And yes, that absolutely applies to any organization ideas that I might implement. Because sure, while organizing might not require you to be super crafty, it does require some out-of-the-box thinking, which is not always my strong point.
If you're in the same boat, and you're looking for organization ideas for your home that are both easy-to-implement and budget friendly, I highly recommend trying out some of these dollar store hacks.
Trust me, when you've got extra money in your pocket and an organized home, you'll be thanking me.
Give some of these dollar store hacks a try for a more organized home:
1. Add dollar store baskets to the wall for more bathroom storage
Image via Making Lemonade
Here's an easy dollar store hack for you.
Simply pick up some square baskets from the dollar store, and put them on your wall for extra storage. You can go with wicker style baskets, as shown in the image above, but you also should be able to find some wire baskets if that will match your bathroom decor better.
Personally, I think this organization idea is great for storing extra towels or toilet paper for easy access, which makes it the perfect solution for in the guest bathroom.
I also recommend checking out your local thrift store for baskets. Anytime I've ever gone to a thrift store there are always so many baskets!
Oh, and if you need more help organizing your bathroom, feel free to check out this article that I wrote on bathroom makeup storage ideas. You're bound to find some more organization ideas in there.
2. Store jewelry in a craft box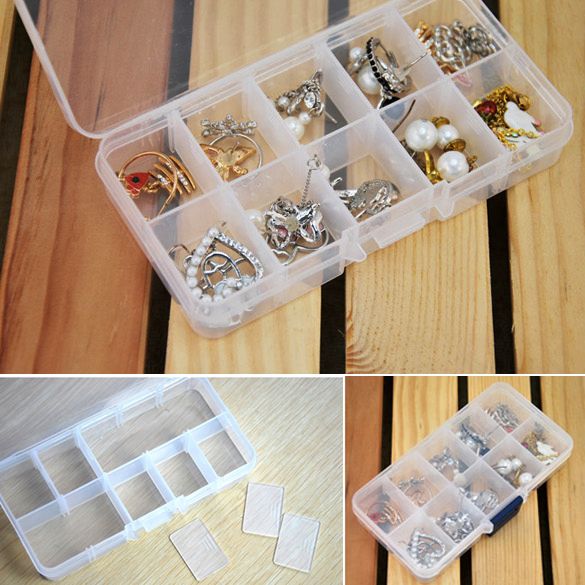 I don't know you about you guys, but I'm constantly loosing jewelry, especially small earrings. I'll have one earring, but I won't be able to find the second, or I'll lose all my backings.
Seriously, it's a struggle, and it makes accessorizing much more difficult than it is.
If you also struggle with keeping track of your jewelry, this is one of my favorite dollar store hacks on this list.
To implement, simply covert a craft storage box into a container for your jewelry. Each section can store a pair of earrings, so this way pairs stay together, and you're not constantly digging around looking for the second.
So simple, but so useful!
3. Use an accordion hook for hanging jewelry
Image via Adorable Antics
I've got to sneak this little jewelry organization idea in as well, because if you're someone who struggles with keeping track of all their necklaces, this is one of the most useful dollar store hacks you'll find on this list.
And hey, not to mention with this dollar store DIY, your necklaces won't get tangled, which is always a bonus.
4. Use an ice cube tray for organizing jewelry
Image via Yesterday on Tuesday
Okay, okay, last jewelry organization hack, I promise. This one was just too clever not to include.
Simply pick up an ice cube tray from the dollar store, and instead of storing ice cubes, use it to place your jewelry. Again, this keeps pairs of earrings together, and prevents you from loosing your favorite jewelry pieces.
Seriously, I might have to do a full post dedicated to jewelry organization, because there are so many clever hacks. Let me know in the comments below if you'd like a post on jewelry organization.




5. Use shower curtain rings to hang belts
Image via Live Simply By Annie
Looking to organize your closet like a pro? This is one of those organization ideas that you're going to question how you ever managed without it.
Pick up a pack of shower curtain rings at the dollar store, feed them onto the rod in your closet, and then hang up all your belts. So easy!
Plus, I would imagine this little dollar store DIY would work well for hanging necklaces or even scarves as well, if that's an area you're struggling with in your closet.
6. Use a hanger and shower hooks for extra rod space
Image via From The Desk
And hey, if you don't have a lot of extra rod space in your closet, this is the perfect solution for you! Just add the shower curtains rings onto a hanger instead of the rod, and then place the hanger on the rode. It takes up much less space, but you can still hang just as many items.
7. Use adhesive hooks for hanging tools in the kitchen
Image via I Should Be Mopping The Floor
There's nothing I find more annoying than digging through a drawer trying to find the proper kitchen utensil when I'm cooking. Measuring cups and spoons can be particularly annoying, which is why I absolutely love this dollar store DIY.
Of course you'll have to ensure that your utensils have a hole on them so that you can hook them, but if they do, I've got a feeling this is one of those dollar store hacks that you'll be implementing ASAP.
In addition, another little tip for 'ya, I would suggest utilizing the backs of cupboard doors for hanging up any kitchen utensils, especially if you have a small kitchen. It won't take up any extra space. Plus, you don't have to dig through a cupboard to find what you're looking for. It will all be right there for you when you open up the cupboard door.
In addition, you can always use these hooks in your bathroom, and then hang buckets off them to hold items, like Q tips, cotton pads, lipsticks, and even nail polish. Plus, you can always pick up small buckets at the dollar store, which makes this an even better dollar store DIY!
8. Dollar store baskets for organizing ribbon
With the holidays coming up, chances are you've got ribbon galore all over your house. Or perhaps you're just extra crafts all year round, and you always have ribbon to spare.
Either way, this is one of those organization ideas that I came across, and I just couldn't believe how crazy simple it is, but so clever.
Give this dollar store DIY a try, and you'll probably wonder how you ever organized your ribbon before.
Oh, and on a related note, I love this idea for adding some style to your baskets. So fun, right?
9. Add baskets to the side of your fridge with magnets
Image via Instructables
If you can find baskets at your dollar store that already have magnets, this idea is perfect for you.
But hey, even if you can't find baskets with magnets, you can simply glue magnets using a heavy duty glue, and then add the baskets to the side of your fridge.
In particular, this idea works great for storing spices that you frequently use, or any other small kitchen items you want easy access to.
The only thing I would recommend is not placing any overly heavy items in your magnet baskets, since dollar store magnets likely wont be strong enough to hold the heavy items.
But spices? Well spices work perfectly for this idea!
10. Display your mugs with a coat rack
If you've been paying attention to kitchen home decor trends, you've likely already noticed how popular the idea of open shelving has become. Everyone wants to display all their nicest dishes on shelves for everyone to see, but if you're not into the idea of open shelving, or you don't have the space to make use of shelves, this is one of those dollar store hacks you're going to love.
Simply find a coat rack at the dollar store, spray paint it a color that matches your decor, flip it horizontally or vertically depending on your space, and voila! You've got yourself a great way to store mugs in your kitchen.
11. Use dollar store containers to organize bathroom drawers
Image via Tatertots and Jello
Rather than buying pricey drawer organizers, use this dollar store hacks to organize your bathroom drawers.
All you'll need is some dollar store baskets and some velcro, and your drawers will be much more manageable during your busy morning routine.
12. Add an extra shower rod for storage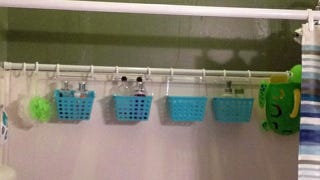 Image via Life Hacker
Depending on how many people are sharing a bathroom in your household, all your gels, creams, and shampoo can easily start to take up space in your shower.
Easily solve this issue by adding in an extra curtain rod in your shower, and then hanging dollar store baskets from it. The shower curtain rings will work perfectly for hanging, and any basket with a handle is what you want here.
Easy peasy.
13. Use clothes pins to hang your tights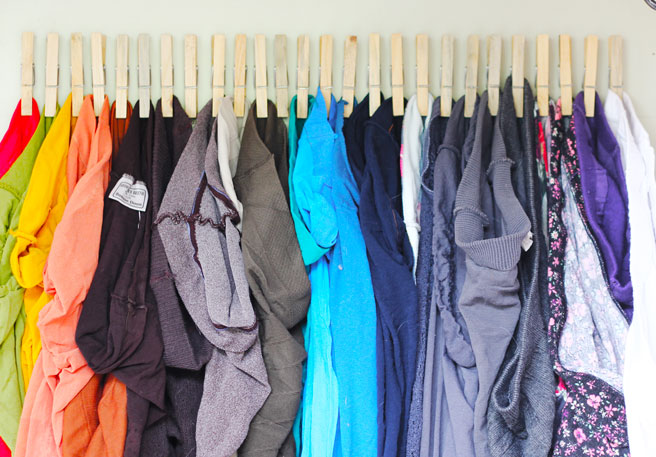 Image via Lana Red Studio
If you're anything like me, and you have a slight addiction to tights, this is one of those dollar store hacks that is going to save you.
Simply glue clothes pins to a piece of wood, and then find a convenient spot to place the piece of wood (the backside of a closet door tends to work well). You'll then simply hang your tights using the clothes pin.
Super simple and great for keeping your closet nice and tidy.
14. Use a garment bag to store wrapping paper
Image via Handyman
Here's another one that's great for this time of year when people are getting into the holiday spirit.
If you don't want to have rolls of wrapping paper littering your house, simply store the rolls in a garment bag.
This helps save on space, and is also a great way for separating out wrapping paper for different occasions. For example, you can keep holiday wrapping paper in one garment bag, and wrapping paper for birthdays in another garment bag.
15. Use shower curtain rings to keep hair ties together
Image via Shady Tree Diary
Oh my goodness, I'm going to implement this idea as soon as I'm done this blog post!
Seriously, I am constantly loosing hair ties. One moment, I'll have a handful, and the next minute, I'm running around my room just trying to find one. It's a serious pain.
With this dollar store hack, I can simply add as many elastics as I want onto the ring, hang it somewhere for easy access, or even just keep it in a drawer. This way, no matter where I put the ring, all the elastics stay together, and are much easier to find.
Oh, and hey, I'd imagine this hack would great for when you're travelling. Rather than throwing loose hair ties into your toiletry bag, add them onto a shower curtain ring, and you'll likely find they're much easier to locate in your bag.
16. Use dollar store baskets to organize every room in your house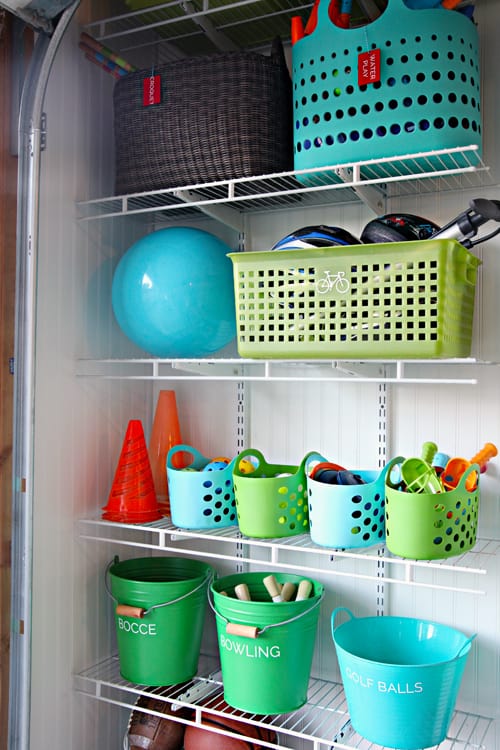 Image via The Organized Mom
I think one of the main takeaways that I found from writing about all these organization ideas is to never underestimate the power of a good basket.
Whether you're trying to organize cleaning supplies, your closet, or the makeup in your bathroom, storage bins, baskets, and really any type of container should always be purchased at the dollar store.
I saw so many clever ideas for using baskets to organize that it really inspired me to start looking into buying up some baskets.
Really, all it takes is a couple dollars, and perhaps some stickers for labelling, and your home will quickly become much more organized.
In addition, shower curtain rings and pill box containers also seemed to be used often for organizing any items that can hang from a rod, or small (easy to loose) items that can fit into a pill box.
---
Basically, what this post all boils down to is your ability to think outside the box, and utilize dollar store  items in unique and clever ways.
If you're able to do that, I've got a feeling these dollar store hacks will quickly make your home much more organized.
Oh, and if you give any of  these organization ideas a try, be sure to let me know how they went. And, as usual, if you'd like to save these ideas for later, or you want to share with your friends, feel free to pin this image on Pinterest 🙂